Business Traffic Builders | Advanced Business Marketing Strategies
Business Promotion Ideas and Products by Business Traffic Builders
With over a decade of experience in cutting-edge creative business marketing strategies, we have a host of clever and unique business marketing ideas and promotional items for businesses with a proven history of sending customer traffic through the roof.
Trying to attract customers to a grand opening, home show, or retail promotion is more challenging today than ever before. Consumers are bombarded with the typical retail promotion or advertising message and you need business marketing ideas to help you stand out from the crowd.
Many companies today stick with the same old business promotion ideas used in the past. The problem is that just because these business marketing ideas worked ten years ago, doesn't mean they still work today! The world is changing at a breakneck pace, and the business that doesn't change with it loses the competitive edge.
The Blizzard of Dollars Cash Cube Money Machine
Whether you are planning a grand opening, launching a new product line or exhibiting at a trade show, our Cash Cube Money Machines are a great way to bring excitement to your event and spark an immediate interest in your products and services. It's easy to see why this remains the most popular of our promotional marketing products. The display itself is so colorful and animated that it naturally attracts a crowd! Not only is a Money Machine entertaining to the contestant inside, often times you will find the crowd jumping and cheering with anticipation, anxiously awaiting their turn!
Once inside the Money Machine, a flurry of cash begins to fly around. Each contestant has 30 seconds to grab as much cash as they can. The great thing about this business promotion is that instead of offering real currency, you can choose to fill the Money Machine with custom printed dollars or money saving coupons that can be used only at your business. There will be excitement in the air as each contestant steps out with a fistful of money that can be applied to your products or services, ultimately increasing your profits!
We offer a variety of different styles of money machines for rent. Inflatable Machines are great for attracting crowds to grand openings and sidewalk sales. Traditionally shaped like a phone booth, the sleek design of our Hard Case Money Machines is sure to catch the eye of potential customers at home shows. Are you a small business planning a promotion on a tight budget? Opt for one of our economical models like The Octagon. Portable and collapsible, this machine can actually be shipped directly to your event.
Whether you are a small or large business, you are sure to find a money machine to fit your promotional needs. Rent or Purchase one of our standard designs or choose to create a completely custom machine tailored to your promotional marketing needs. No matter what model you choose, our Money Machines are guaranteed to spark interest, attract a crowd and quickly turn passersby into repeat customers. What other promotional marketing product can offer this kind of customer conversion! Still have questions about Promotional Money Machines? Speak to a Business Promotions Specialist at 800-573-3111.
CUSTOM BRANDED PROMOTIONAL VIRTUAL GAMES!
Our versatile digital games are available for use on cell phones, tablets, and monitors and can be used with Facebook, Twitter, Instagram, YouTube & LinkedIn. With hundreds of ways to utilize our games to benefit your business, let the games begin!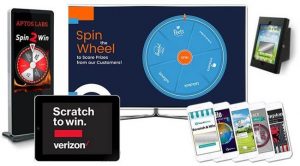 Virtual Promotional Game Uses:
Introducing New Products
Online Retail/Ecommerce Promotions
Retail Store Sales Promotions and Storewide Events
Tradeshows and Conferences
Virtual Tradeshows and Conferences
Webinars and On-Demand Events
Web Conferencing and Virtual Meetings
Picture yourself at a tradeshow, surrounded by a sea of booths with huge displays, product images, and literature to boot. Which of those booths are you most likely to visit? The one with the Digital Cash Cube Money Machine Game on the Big Screen!
Your experience with OnlinePromotionalGames.com will be a personal one. We've worked with businesses and organizations from numerous industries, so our Promotions Specialists are standing by to give you the help and support needed to choose the right digital promotional game tailored to your unique business needs. We'll help you through every step of the design and application and provide a product you will be proud to showcase. We can even provide you with ideas for imprinted merch to distribute as prizes…
Benefits of Going Digital with Your Promotions
One of the most significant aspects of our online promotional games is the ability to take them anywhere! Available for display on a cell phone, tablet, or monitor, digital games are by far the most versatile promotional attraction products available today. Imagine you're using the Cash Cube Money Machine Digital Game on your cell phone outside of a venue to boost excitement about your latest product. Or perhaps you are placing a tablet at your sales counter so customers can Play Digital Plinko after their purchase. In either instance, the compact and easy to use interface makes it an ideal promotional tool for smaller spaces.
Want to make a BIG impact? Showcase the Digital Spinning Wheel on the big screen at your tradeshow booth to drive traffic and engage a crowd. Don't forget to share the virtual promotional game and your booth number via social media before the show. Contestants will surely share the fun they had with your #DigitalSpinningWheel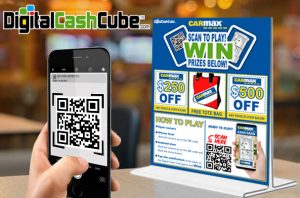 In addition, the use of a Digital Promotional game provides you with an Instant Audience. The ability to easily share the Virtual Promotional game on your website, Facebook, Twitter, Instagram, and YouTube, will attract a larger audience and excite current customers to return for your products or services
Let's face it…most consumers find it hard to resist anything that is FREE! This is one of the many reasons why Imprinted Promotional Giveaway Items are one of the most effective, economical and long-lasting forms of small business advertising. We offer over 750,000 customized promotional items to choose from. No matter what industry you fit into, you are sure to find the perfect promotional product for your business or marketing promotion!
Promotional Products are also a fantastic business marketing tool to help you build website traffic at an extremely low cost. A company logo and URL on one of our many promotional items introduces customers to your online site where they can buy from the comfort of their homes.
Whether you advertise a grocery store on an eco-friendly tote bag, financial planning services on a calculator or a hardware store on a tape measure, customers will associate your brand with their needs! Imprinted promotional products act as mini billboards, increasing exposure and strengthening your brand image in the minds of prospective and current consumers. Still have questions about Customized Promotional Products? Speak to a Business Promotions Specialist at 800-573-3111.
When planning marketing strategies, it is important to put yourself in the mind of the consumer. If you were given the chance to win a prize by guessing a 4-6 digit combination, wouldn't it be worthwhile to try? That's just what we had in mind when we created the Promotional Prize Vault.
Rent a Prize Safe for your next marketing promotion and you are sure to attract cheerful, revved up customers to your establishment or trade show booth. The clear walls of the vault allow customers to see what's inside, building excitement and anticipation. Should you choose to offer the $10,000 jackpot, you won't be responsible paying any of it! That's right; you only pay a small fee to insure the prize!
Whether you choose to rent or purchase the Prize Safe, you will quickly find that it is the ideal marketing tool for repeat promotions. Once you have driven traffic to your business with the incentive of unlocking the prize vault, you've solved one of the hardest problems with increasing sales. It is much simpler to turn a visitor into a customer than it is to bring a customer in the door. Still have questions about the Promotional Prize Vault? Speak to a Business Promotions Specialist at 800-573-3111.
Customizable Scratch Off Cards
Any business can benefit from an inexpensive yet effective business promotion. Whether you are a small business on a limited budget, or a huge operation looking for supplemental marketing strategies, customized promotional scratch-off cards are sure to get your business noticed!
Scratch-off cards are a great way to promote your business at a distance. Put them in community mailings with encrypted prizes so that customers will have to visit your business to see what they've won. This retail promotion is sure to get consumers in the door! Customized scratch-off cards can also be handed out to new customers as an incentive to buy right away rather than go home to think about it.
Like all of our promotional marketing products, customized scratch-off cards are made from high quality materials. Available in a number of different sizes and styles, Promotional Scratch-Off Cards can even be customized with your business logo or any other custom design. Don't have a logo? No problem! Our team of graphic designers can create a design that is sure to capture attention! Still have questions about Customizable Scratch-Off Cards? Speak to a Business Promotions Specialist at 800-573-3111.
When you create an atmosphere of casual fun, consumers may not even realize they are shopping. Promotional Prize Wheels help you to change the way customers view sales. As participants spin the Prize Wheel to reveal savings on purchases, they don't feel like they are spending money, they feel like winners…winners with a strong incentive to buy!
With over 25 models to choose from, you are sure to find the perfect Prize Wheel to fit your promotional marketing plan. The 20.5" prize wheel is perfect for a tabletop display, making it a smart choice for small businesses participating in home shows. To make a bigger impact, try our huge 72" stand-alone prize wheel which can be emblazoned with your business logo.
Our stock models include interchangeable prize slots that can be tailored to your current business promotion. Other prize wheels have numbers and you can assign each number to any prize you like. The Promotional Prize Wheel can be part of a new retail promotion, but many owners quickly integrate them to be a permanent part of their businesses. Still have questions about Promotional Prize Wheels? Speak to a Business Promotions Specialist at 800-573-3111.
Promotional Plinko Boards
If you've ever watched popular game shows, you've probably seen Plinko! It's a large board with small pegs located throughout and deep wells at the bottom that correspond to your individual prizes. Game players drop a plastic puck down from the top and watch with anticipation to see where the puck ends up and which prize they've won! This anticipation quickly gathers a crowd, which makes Plinko an ideal choice for grand openings, home shows and other forms of small business advertising.
Stock Plinko boards are available in both white and black, and customers can choose from both mini and full size versions. Each one comes with three pucks; however, it is possible to purchase extra pucks if needed. Stock Plinko boards can be customized with easy to use templates found online, which means you can get a unique retail promotion at an affordable price.
For a truly one-of-a-kind Plinko board, have a custom one created. Each custom plinko board offers a personalized changeable face plate, and three Plinko pucks that can be branded on both sides. Still have questions about Plinko Boards? Speak to a Business Promotions Specialist at 800-573-3111.
When it comes to tradeshow, your 1st goal is to provide value to your customers, and secondly to maximize your ROI. Tradeshows are great places to network and exchange ideas, as well as making a lasting impression on attendees.   Customers who use phone charging stations have seen on average a foot traffic increase by nearly 35% and are a great way to provide value to attendees at these trade shows.  With these custom phone charging stations you can offer prospects the availability to charge their mobile devices such as: Smart Phones, iPads, and tablets. This allows your customers to stay connected with family and co-workers, while giving you a prime opportunity to interact and engage with these prospects.
We offer various styles of custom phone charging stations such as:
Custom branded table-top chargers
Custom branded floor model chargers
Tables with foot rest and built-in charging stations
Why stop there? Maybe these guests had to pack in a hurry and forgot to bring their phone chargers. In addition to charging their phone at your booth, you good offer them a charging cable organizer with your branding, or a portable power bank with your logo!
Tradeshow attractions, such as phone charging stations, have the power to generate brand awareness and a great user experience to bring life to your booth!
Check out our large selection of custom phone charging stations to rent or purchase yours today! Still have questions about custom phone charging stations? Speak to a Trade Show Promotions Specialist at 800-573-3111
Do you want guaranteed fun and guaranteed prizes? If so, the Dice Winner's Prize Dice Game is the best business promotion idea for you! Your customers will take a pair of dice and drop them down a plastic chute. The dice wiggle and fall until they finally land at the bottom of the game. The numbers on the dice are added up, and the sum total corresponds to prizes that are listed on the side of the Prize Dice game. Everyone is a winner, every time, making it a popular small business advertising tool!
With easy to use templates online, customizing the Prize Dice game is easy! Templates are available for the game's background, insert, header and footer. Each template can be printed using Microsoft Word, Adobe Illustrator or Adobe Acrobat, which means that nearly anyone with a computer can easily customize the Prize Dice for any promotional marketing event.
The Prize Dice is affordable, portable and reusable, making it perfect for grand openings, retail promotions and home shows. Still have questions about our Price Dice Games? Speak to a Business Promotions Specialist at 800-573-3111.
Imagine receiving a one-of-a-kind prize ticket in the mail. You're not sure if you've won, but to find out, you need to visit a local business and insert the ticket into a special machine — The Prize Decoder! Instantly, you'll know if you're a winner. It's one of the most effective small business advertising promotions available, but you don't have to be a small business to use one!
The Prize Decoder comes in either a tabletop model or a floor standing model. It's possible to rent them on a weekly basis. Both purchased and rented decoders are available with a fully customized panel, however many businesses find that the Prize Decoder is one of their most popular business marketing strategies and they wished they would have purchased it from the beginning!
If you're interested in your very own Prize Decoder, it's easy to program yourself. This means you can use your purchased Prize Decoder for multiple business marketing strategies, and even change the full color video display to easily switch your retail promotion. Still have questions about the Prize Decoder Scan to Win Promotion? Speak to a Business Promotions Specialist at 800-573-3111.
New! Promotional Buzzwire Game
If you're looking for a way to add some electric excitement to your grand opening or promotional event, the Buzzwire Game is just what you're looking for! Contestants must move a small hoop along a wire without touching the two — when they connect, the game lets off a loud buzzing sound that attracts attention from all over the room! You can even adjust the volume of the buzz to your desired noise level. Each Buzzwire Game includes two different sized hoops, allowing you to change the difficulty level. Ideal for outdoor promotional marketing events, it runs off a rechargeable battery pack so you never have to worry about finding a power source!
Great for small business advertising, it is possible to rent or purchase the Buzzwire Game. Each panel can be completely customized so that you can display a logo, or highlight a prize that customers are competing for.
If you host multiple promotional events, it's also possible to purchase the Buzzwire Game. The customized plates can be swapped out easily, meaning Buzzwire can be an integral part of your retail promotion or small business advertising. Still have questions about the Promotional Buzzwire Game? Speak to a Business Promotions Specialist at 800-573-3111.
If you're looking for a one-of-a-kind promotion for grand openings, home shows or marketing events, a Treasure Chest is the ideal solution. These treasure chests are available in a number of different models, from clear Lucite chests that let customers see the prizes inside, to wooden versions that mimic a real pirate's chest. These treasure chests come with just a few working keys (the rest are bogus), which means that you can easily control the number of prizes that are awarded. What makes this one of the best grand opening ideas or business promotion ideas is that your customers have to come into your business in order to see if they've won!
There are a number of customization options available. You can purchase a display stand with a-one-of-a-kind sign to promote your business. We can even create the custom sign so you can be sure that you have a professional looking promotional marketing piece.
While any treasure chest makes a great business marketing strategy, the most popular sellers are the Deluxe Package and the Economy Package. Both come with a chest, a lock, winning keys and bogus keys! Still have questions about Treasure Chest Promotions? Speak to a Business Promotions Specialist at 800-573-3111.
Toss N' Win Corn Hole Game
Toss N Win is a game that people of every age can play, though sometimes it's referred to as corn hole. While it's a simple idea, it's a great way to entertain customers and create a fun, friendly atmosphere at storewide sales, home shows or outdoor marketing events.  It's incredibly lightweight and portable, and takes almost no time to set up. To play, participants will toss a bean bag towards a high impact resistant board and aiming at a small hole towards the top of the board.
Each corn hole game includes eight bean bags that are available in a number of different colors. These bean bags can be left blank or they can be imprinted with your company logo for a one-of-a-kind promotional marketing item.
The customized boards serve as promotional billboards for your business, displaying your company logo, current sales or new products. Each Toss N' Win game is available in both a single color printing process and a four color printing process, which is an excellent choice for those looking for eye-catching, vibrant colors. Still have questions about Toss N' Win Trade Show Games? Speak to a Business Promotions Specialist at 800-573-3111.
One of the oldest and most recognized promotional marketing ideas is the raffle drum. Customers will rush to your business if you can entice them with the chance to win amazing prizes, money saving coupons or free products and services. Whether you choose a brass model or the acrylic version, set your raffle drum in a high-traffic area and watch as people come flocking to enter for the chance to win!
Some businesses choose to put entry forms and pens near the raffle drum. However, a raffle has also proven to be a successful direct mail marketing strategy. Mail out customized entry forms and invite customers to stop by your business to drop off their entry. This is a great way to get attract new customers to grand openings home shows and retail promotions!
Acrylic and brass raffle drums are available in both small and large models, which means that you'll be able to choose the ideal size for your business promotion. Each comes with a stand, a turn handle and a hinged door with a latch, to protect the integrity of your entries. Still have questions about Raffle Promotions? Speak to a Business Promotions Specialist at 800-573-3111.
Customized Popcorn Machines
Nothing draws a crowd at business grand openings or home shows like the smell of freshly popped popcorn! With custom popcorn machines, you'll be able to attract customers and further your brand's recognition at the same time, just by tantalizing their taste buds. Whether you're charging for popcorn or simply giving it away to clients, you might be surprised at how easy it is to draw a crowd with minimal effort.
Each stock popcorn machine can be customized with a simple plaque or transfer, but those aren't the only personalization options. It's also possible to order completely customized popcorn bags, which ensures that everyone walking around your event is a source of small business advertising for your company.
If you're planning on making popcorn a regular part of your promotional marketing and you're looking for maximum exposure, opt for a fully-customized machine branded with your company logo and marketing message. Choose your own colors and add a screen printed logo and plastic etching so your customers will never forget the popcorn from your company. And when your customers are happy and well-fed, they'll be more likely to do business with you! Still have questions about Customized Popcorn Machines? Speak to a Business Promotions Specialist at 800-573-3111.
To attract attention to your retail promotion, you need out-of-the-box business promotion ideas that set you apart from the competition. How many other businesses in your area have a robot handing out pamphlets or announcing current sales to customers? An encounter with one of our animated robots is sure to leave a lasting impression in the minds of your consumers!
We have a variety of robots for rent or purchase, each offering a unique experience for everyone it comes in contact with. Whether you choose to rent a small robot that can easily maneuver through crowds or a larger model with animated movements and bright colors, our Promotional Robots are sure to drive traffic to your business.
If you really want to turn heads, purchase a giant custom gorilla robot. Designed for indoor and outdoor use, these 6'6″ gorillas serve as giant advertisements for your business. The gorilla robot includes a 21″ x 36″ customized sign to hang around his neck. By adding a Promotional Robot to your business marketing strategies, you're sure to attract attention in a BIG way! Still have questions about Promotional Robots? Speak to a Business Promotions Specialist at 800-573-3111.
For a memorable promotional marketing event, create a fun and exciting atmosphere with a Portable Photo Booth! Great for small business advertising, home shows and grand openings, this appealing attraction is guaranteed to stir up enthusiasm and engage your customers!
Photo Booths are a great way to show appreciation to your customers. Offering the opportunity to step inside the booth and have their picture taken for free creates lasting memories and more importantly, loyalty to your brand. Not only are they easy to use, easy to set up, and easy to ship, our photo booth rentals are also cost-effective, providing you with the most value for your rental.
Do you participate in ongoing promotional events? Rent or Purchase a completely customized photo booth imprinted with your company logo and marketing message. Is doesn't stop there, you can even add your logo on photo strips, providing attendees with a memento that they will cherish long after your event is over! When customers look at their photo, remembering the fun they had, your name and contacts will be right there! Still have questions about Promotional Photo Booth Rentals? Speak to a Business Promotions Specialist at 800-573-3111.
Retro themed video games like Pac Man, Stargate and Pinball bring back nostalgic memories of hours spent in the video arcade, while more difficult games like the Putting Challenge, target shooting or a checkpoint-style racing game can bring out the competitive kid in anyone who visits your company's grand opening , retail promotion or home show exhibit. Watch the crowds gather naturally as everyone waits for a turn to play, and take advantage of this captive audience to share information about your products or services.
With a number of different game models to choose from, you are sure to find a video game attraction to meet your promotional marketing needs. Both tabletop and stand alone video games are available for rent or purchase, however unlike previous versions, these video games don't need quarters to work. It's possible to customize each model with your company's logo, even if you're simply renting the game.
If the video game is going to become a regular part of your promotional marketing strategies, purchase your very own customized unit. No matter which model or type of video game you choose, set-up is simple and only requires a three prong electrical outlet. Still have questions about Video Game Attractions? Speak to a Business Promotions Specialist at 800-573-3111.
The "Cha-Ching!" Slot Machine
Nothing beats the pure thrill of a slot machine. Pull the lever, watch the wheels spin, and win! With all the bells, lights and excitement of a casino, the "Cha-Ching!" Slot Machine is the real deal! The only feature missing is the clinking of coins. Instead, customers win prizes such as cash, money saving coupons or free merchandise.
Like all of our promotional items for rent, our Slot Machines are customizable. They carry your company logo, of course, but the options go much further. You control every aspect of the slot machine. Set the odds of winning high and everyone walks away a winner; set them low and create excitement and anticipation as the customized slot machine wheels spin.
With the "Cha-Ching!" customized slot machine no one is a loser. You choose the prizes so even customers who don't win big cash discounts can still win something and have fun. Rent or purchase a customized Slot Machine that can be repeatedly used at all of your promotional marketing events and not only will your customers feel like winners, their loyalty to your brand will skyrocket! Still have questions about Promotional Slot Machines? Speak to a Business Promotions Specialist at 800-573-3111.
Everyone knows what an ATM is, which is what makes the Promotional ATM one of the most popular business marketing ideas. Give customers a promotional card that has a magnetic strip, and stand back as they swipe it through the machine. The machine can be placed in prize mode or promotional mode so that you can control the prizes the ATM Money Machine gives away.
If your promotional marketing needs only happen once in a while, like a grand opening or home shows, consider renting an ATM Money Machine. The machine arrives programmed with a one-of-a-kind promotional message on the screen, and you can customize it to give out gift certificates, reward dollars, or even coupons for high value products and services.
Companies that want to use the Promotional ATM as a regular part of their retail promotions or small business advertising can take advantage of the custom imprinting and the full color vinyl wraps. When an ATM Money machine is emblazoned with your company's logo customers won't be left wondering just who's providing this fun promotional marketing idea! Still have questions about Promotional ATM Machines? Speak to a Business Promotions Specialist at 800-573-3111.
Giant Marketing Balloons, Customized Promotional Inflatables and More
Nothing attracts attention and brings customers into your business like a giant marketing balloon. Some of the most popular inflatables include shapes like arches for customers to walk right through, domes, hot air balloons and blimps. Another popular inflatable is the larger-than-life gorilla. Use the gorilla to attract attention to your grand opening, home show exhibit, or to advertise one of your business promotion ideas, like a contest or raffle.
If you're looking for a truly one-of-a-kind inflatable, have one created! We can design a giant inflatable in the shape of your company's logo, your products, or anything else that helps customers recognize your company, making inflatables one of the most effective promotional marketing strategies for grand openings.
If you need an inflatable with a smaller footprint than a gorilla, consider a sky dancer. These sky dancers will stretch, jump and wiggle high into the air and will turn heads from all directions. They're available in a number of different colors, so it's possible to match them to your company's colors for fully branded promotional marketing strategies. Still have questions about Custom Marketing Balloons? Speak to a Business Promotions Specialist at 800-573-3111.